'
Several months ago I saw a table that I LOVED on
Etsy
, but it was outside my budget, and I really didn't need another table. But, it had been in the back of my mind for a while.
This table has been through a couple of makeovers . . . this was what it looked like before I got it.
Then, I painted it cream about six months ago.
To do the project was actually pretty simple. First, you need a mirror that is roughly the size of your surface. One of my besties gave me a mirror she was no longer using, so I didn't have to buy one. (And it was big enough that I may be doing this to another table, or two!)
You also need adhesive and grout, sand paper, thick gloves, old cloths you don't mind throwing away, glass cleaner and paper towels. I used
Mosaic Mercantile Adhesive
and
Mosaic Mercantile Premix Grout Quart, White
. I used the leather outdoor work-type gloves.
The first thing you have to do is break the mirror - which is far more difficult than it sounds because you need a lot of smaller chips. I broke my mirror outside and then put all the pieces into a box. I ended up having more large pieces than I wanted, so I had to break more inside, but having it inside a box made it easier to control flying chips.
Once you have broken enough pieces to get started, make sure that your table top is lightly sanded to give it enough "tooth" for the adhesive to adhere. Next, simply apply adhesive to the table, and then begin to place your mirror pieces over it.
I found that wearing the gloves for this step was not practical because of the thickness, but you may want to wear them. I just was very careful with the broken pieces, and managed to get the entire table laid out with only one small scratch.
I didn't worry as much about pattern as I did filling in the space. The adhesive dries quickly, so work in small areas, and then apply more adhesive, and repeat.
Once all the pieces are glued in place, you need to wait for the adhesive to dry. This is important otherwise your mirror pieces will move when you apply the grout.
To mix the grout, follow the instructions, but you basically just put the grout in a bowl and add water, then stir until it is the consistency you desire.
The instructions tell you to wear latex gloves for this step, and it might work with the kitchen type latex gloves, but thinner gloves would be shredded by the mirror and sandy grout. I didn't use anything on my hands, but then I'm reckless that way. Listen to the manufacturer, not me!
Keep applying the grout, pushing it down into all the gaps between the mirror until it is completely covered, and then let it dry. The directions said 15 minutes, but I waited about an hour as the grout still felt damp to me.
No matter what the mosaic project, the next step is the most tedious for me . . . you have to wash the grout off the top of your mirror (or tiles if you are using that.) It takes quite a few trips to get it all off. The photo below is after I had rinsed the table down about five times.
You need to get all the dried grout off the mirror, and then get rid of the cloudiness that is caused by residual grout over the mirror. Just keep at it. A word of advice, though, use towels you don't want to keep - because getting all that sand out of a towel can be a nightmare.
Finally, when the grout is all dry, you can clean the mirrors with glass cleaner and a paper towel to get the last of the cloudiness off the surface.
And here is the finished piece.
I've had a couple of questions about my centerpiece; all of the pieces are gold mercury glass from discount centers and Hobby Lobby. I had a hard time finding a try that was large enough to hold all of those wide based candle holders, so I ended up purchasing the
Winware 20-Inch Aluminum Pizza Tray with Wide Rim
and then spray painting it gold, then adding
Speedball Mona Lisa Composition Gold Leaf
over the top. It is a simple project but has big impact!
This project was featured at: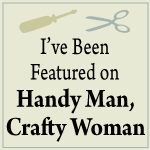 This project shared at the following sites: