In my living room, I have had a picture that I purchased at Kirklands. I like it, but it was more the colors, than the theme. The girl in the dress didn't really have much to do with the rest of the decor. Here is what it looked like: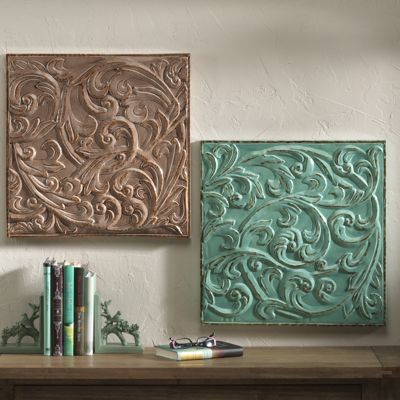 But when the tile arrived, the color was just a little too green for my room, and I didn't like the paint treatment, which had a "faux" rust on it. So, I primed it, and repainted it with a Robin's Egg Blue, and then I sanded it.
I really liked the fabric-like backdrop of the original art, so I pulled the top canvas off, and replaced it with the newly painted tin tile. I simply put nails into the canvas where the canvas had originally been, and then glued the tin all the way around the piece down to the larger canvas.
Here is the canvas in place. What do you think? I'm still looking for two matching pieces for the top of each tower to put on either side of the canvas.
Linking up to: