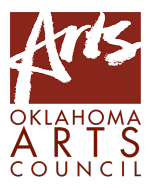 Recently, I learned that I am one of 31 people chosen to participate in the state and federally funded arts advocacy program "Leadership Arts" through the
Oklahoma Arts Council
. The program includes 4 months in 4 different communities (Quartz Mountain Resort in Lone Wolf, Norman, Medicine Park, and Tulsa), plus then the Oklahoma Arts Conference.
I applied for the program two years ago, and was not chosen. I decided to apply again this year, and was thrilled to be chosen for this year's group. Out of each group, there are only two or three spots for individual artists, I believe, so it is doubly exciting.
I believe that volunteering is very important, and while there are many opportunities to volunteer, I think it is important to choose wisely. It is easy to become burned out if you are involved in something that is not a passion for you, because most volunteer opportunities are time consuming, and not necessarily easy or fun, all the time. To stick with it, choosing a topic that truly touches your heart is important.
In 1997, I started a Charity with the help of my mom, and a huge pool of terrific volunteers. (
http://www.memoryboxes.org
). In 2009, I decided it was time to hand it off to another leader. I loved the opportunity to work with artists, and provide boxes for infant bereavement programs around the world. After nearly 12 years with all the responsibility of leading the program (shared with my mom, who is a wonder-woman), it was just time to move on.
Since that time, I have stuck with short-term charity projects in the community, and through my church. Recently, however, I've found that I wanted to get back into working with the arts, and Leadership Arts seemed like a terrific place to start.

Leadership Arts is designed as a statewide network of community art leaders. it includes members of arts organizations, city representatives, and individual artists, such as myself. Class members will learn how arts and cultural development can be harnessed to create economic opportunity, provide a high quality of community life, and ignite the creative potential of Oklahoma's youth.
I'm excited to be attending the first session this week at the Quartz Mountain Resort. Session one is on "Making a Case for Arts Education", which includes Leadership Resources, and Advocating for Arts Education.
The
Oklahoma Arts Council
web site says, "Participants will learn why and how the arts make a significant contribution to Oklahoma's economy, how communities have developed arts programs and vibrant arts spaces to enhance quality of life, how the arts improve the image of cities and neighborhoods while serving as a centerpiece for community engagement, and how the arts cultivate creativity, attracting and retaining a creative workforce.
Sessions are interactive and will expand participants' understanding of group dynamics and the value of group work. Leadership Arts will help you better articulate and advocate for the arts in Oklahoma, design strategies for employing local assets for cultural development, work towards creative partnerships and consensus building, and teach you to mobilize your leadership capacity and the capacity of others."
The National Endowment for the Arts – FY 2011 Performance & Accountability Report said about the program,
"The Oklahoma Arts Council created the Leadership Arts Academy to
foster development of arts leaders and arts-active communities in Oklahoma.
In addition to developing a statewide network of community arts leaders, this
program was also designed to raise public awareness of the arts and convey
how the arts and cultural development can be harnessed to create economic
opportunity, provide a high quality of community life, and ignite the creative
potential of Oklahoma's youth. Classes have been held annually since 2008."
So, look for some upcoming posts about the things that I am learning, and my travels, for this wonderful program!